Malachi Thompson 1832-1915

Grave Marker Dedication Ceremony   24 January 2004

Old Still Cemetery, King's Ferry Road, in Hilliard, Florida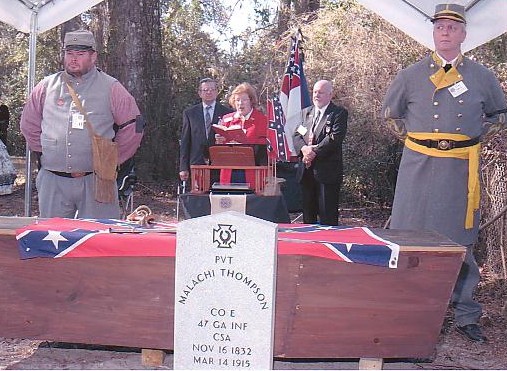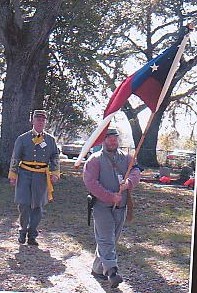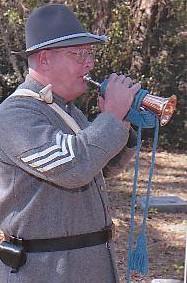 After the long and tireless efforts of one of his descendants, Linda Davis, Private Malachi Thompson of Company E, 47th Georgia Infantry, Confederate States of America was remembered by his family ancestors and his grave appropriately marked with the gracious assistance of the Sons of Confederate Veterans.

Biography:

Malachi was the youngest son of Benjamin Thompson of Bryan County, Georgia. Malachi was in company E of the Georgia 47th.  At least 3 of his brothers fought in the CSA. Malachi was injured a Chickamauga when a cannon ball cut a tree blinding Malachi in the right eye and fracturing his collar bone.  He spent several months in Montgomery, Alabama in the hospital before being discharged home, but home in Bryan County, Georgia did not have any of his family.  He moved to Charlton County, Georgia along with his brother Hezekiah. They lived next door to Richard Thompson who I believe was their older brother. Malachi married Nellie Sellers and after 2 or 3 children were born, moved across the St. Mary's River to Nassau County, Florida where he had a hog farm and sold turpentine.  He died March 1915 and was buried in the Old Still Cemetery.  Nellie drew his pension starting in May 1915 and by 1920, she had died.

Dedication

Taken from an Invitation dated 24 Jan 2004

"My Great grandfather was Malachi Thompson.  He is buried in an unmarked grave at the Old Still Cemetery in Hilliard.  Both my father's grandfather have VA grave markers...one in Alabama and the other in northern Louisiana. They served in the CSA. I have always wanted to get one for mother's grandfather Malachi as he was wounded at Chickamauga before settling in Charlton County, Georgia then later crossing the river to Nassau County by 1880. It took me three years to prove this with his pension record and get the grave marker. 

On January 24th at 2pm at the Old Still Cemetery in Hilliard the local camp of the Sons of the Confederacy will do a dedication service for the new grave marker and pay tribute to an old Rebel.  Friends and family are all welcome to attend.  In the true sense of a Scottish warrior, bagpipes will be played.  Please join us if you can.  Bring a child and teach them history first hand.

Directions:  go north on US #1 until county road 108 and go east/turn left. Turn left on to King Ferry Road. Go about 2 miles and on the left is a modern church. Just pass that is a drive that goes up a hill. The cemetery is on the hill. 

Hope to see you there.

Linda Davis

Shown below is Nancy Sturges reading a Civil War poem "Great-grandfather" with Commander Jim Lear and Lt. Commander Fred Sanders at her side.  In the foreground is the "Mock" flag-covered coffin and Malachi's tombstone.  Two soldiers stand watch. Click on thumbnails at left for more pictures.

The ceremony was reported in the Jacksonville (Florida) Times-Union newspaper.



Shown above  L to R Front

Color Sgt. Scott Lear of Camp # 745 (L)   Commander Jim Davis Camp # 1316 (R)

Back Row L to R: 1st Lt. Fred Sanders (L) , Mrs. Nancy Sturges (C) , Jim Lear (R)

Carl Sheppard-bugler

Adjutant / Camp # 747

Very Special Thanks to members of the area Sons of Confederate Camps who assisted with this memorial including the host camp The Lt. Edward Johnston Camp # 745 of Nassau County, Florida. They  were assisted by members of the Camden Mounted Rifles Camp # 747 of Camden County, Ga., along with members of the W.W. Loring Camp # 1316 of St. Augustine, Fl, and members of the Wiston Stephens Camp # 2041 of Macclenny, Fl.

In the thumbnail photos above the honor guard consisted of Commander Al Kyle of Camp # 2041 (in butternut) and the captain of the honor guard is Lt. Commander Jay Sheppard.